Disease Reversal Hope! - Book & Documentary Film
The Purjes Foundation is pleased to share Disease Reversal Hope, Real People Real Stories,  a new book available now on Amazon, by Dan Purjes and Dr. Scott Stoll.
Disease Reversal Hope! is a remarkable collection of 36 stories by people who reversed chronic diseases. They suffered from heart disease, cancer, lupus, type 2 diabetes, kidney disease, multiple sclerosis, rheumatoid arthritis, depression, obesity, and many other diseases. Some were told medications could no longer help, others were told they had only months left to live, and all were told their disease could not be cured. Each of these people, at the point of greatest despair, found their way to a whole plant food lifestyle and reversed their disease without medications or procedures.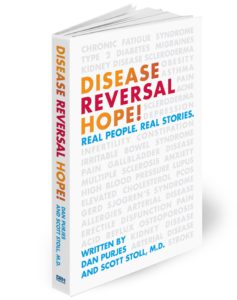 The Power of Storytelling
The reader cannot help but connect with the storytellers in their authentic, vulnerable, and relatable stories. Several of the storytellers were given fatal diagnoses. Most were left to live with debilitating diseases and told they would live their lives dependent on medications. They then decided to take their health into their own hands, reversed their diseases, and reclaimed their lives and health.
You may order the book now on Amazon.com.
Available Now!
Disease Reversal Hope! The Film is a feature-length documentary that brings to life the stories of those immersed in the abyss of chronic disease, facing a hopeless future and shares the discovery of hope found in the foods that led them to a disease-free, vibrant life! The movie is now available to buy/rent on many services. Please visit https://diseasereversalhope.org/film for all streaming options.
Distributed by Gravitas Ventures
Learn more about the book, the film, and the amazing stories they contain at https://diseasereversalhope.org/.
If you have questions or comments, please contact: media@diseasereversalhope.org.